Section:
Ecommerce & Trading
Orders
When you receive an order through your store you will be notified of it by email.
You can also view the full order details through your account on this site.
To view orders click the "live orders" menu item on the "ecommerce" menu shown on the left of the page.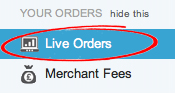 Viewing Orders
All your orders are then displayed.

Orders are either archived or unarchived.
By default, a new order will be unarchived, but you can make it archived by clicking the "archive" button.
If an order is unarchived it will display a circle that is only part filled.

An archived order will display a full-filled circle.

At the top of the view orders page you can choose whether to view all orders or only those that are unarchived or archived.

Viewing And Managing Individual Orders
When you click on an order it will display the full details of the ordered item.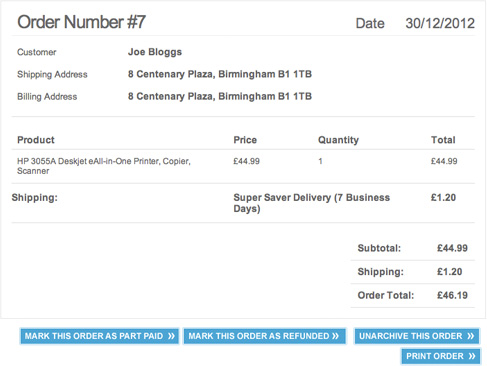 The unique order number is shown at the top of the page followed by the date that it was placed.
Beneath is shown the customer's details (their name, shipping and billing addresses).
Then you can see the full details of the items ordered by the customer.
The customer's shipping option is also displayed.
At the bottom of the order you will be shown three buttons
First you can click to either "archive" or "unarchive" the order, and also choose to say whether the order should be marked as paid, part paid, or refunded.
At the bottom is a "print order" button which when clicked will produce a page which is printer friendly.