Section:
Ecommerce & Trading
Settings
Your online store has 5 different settings that can be configured by you. Click an item below to jump to that section.
Payment Settings
Select "payment settings" from the left hand side ecommerce menu.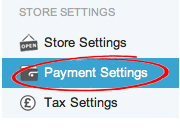 Visitors to our website can purchase items listed for sale from multiple merchants in one shopping basket and one payment transaction, the individual payments to each merchant are then automatically distributed by our software.
So that we can offer this service to customers and merchants, items sold through your store to visitors on the BionowB2B platform can only be sold by using PayPal, so you must have a PayPal account.
On the payment settings page you must put in your PayPal email address.
Please ensure that you enter your PayPal address accurately as we cannot be held responsible if you make a mistake.
Shipping Settings
You can create and configure specific delivery rates for items purchased through your store to any country in the world. You can also configure different delivery rates for the same country (so you can offer different delivery times, e.g. First Class, Second Class etc.).
The shipping settings page offers a very powerful tool for configuring delivery rates.
You can set delivery rates based on either:
The total value of the items purchased by a customer
The total weight of items purchased by a customer
You can also configure delivery weights based on different bands of total value or total weight, e.g. £0 - £100 costs £5, £101 + is free.
You don't have to configure a delivery rate for every country, any country that you haven't set a delivery rate for is automatically included in the "rest of the world" option.
To create rates for a new country, simply select the country from the drop down list and click the "save this" button, e.g.

The new country will then be displayed.
Then click the "add a shipping rate" button for that country.

A box will then be displayed allowing you to enter
The name of the shipping rate
Select whether its based on total value of the customer's basket or total weight of items ordered
The applicable range (for either value or weight)
The shipping price
for example,
In the above example we have created a "Free Super Saver Delivery" rate - and we've told the customer it will take 10 working days.
We've set the rate to be based on the total value of the customer's shopping basket of items and set the applicable range as £0 - £500 pounds (so anything over £500 will need to be covered by a different rate).
The cost of delivery is set as £0 (free).
Another example,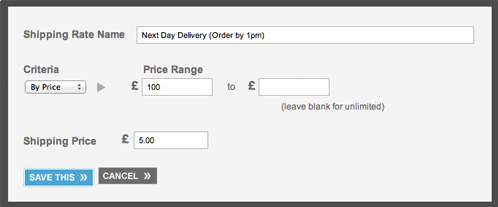 Here we've created a rate for "Next Day Delivery" and told the customer they must order by 1pm.
The rate is applicable for any basket value over £100 and will cost £5.
When you've created the rate don't forget to click the "Save this" button to save it.
The screenshot below shows what a country looks like with a few different rates configured.

Tax Settings
When adding items to your store you can either add them with or without VAT included.
Whichever you choose, you need to let us know so that we can calculate the prices shown to visitors accordingly.
Navigate to the "tax settings" page from the left hand side menu.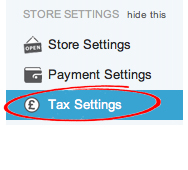 You'll then be asked to enter your TAX settings.

First select whether you are VAT registered or not.
If you are not, there is no need to do anything else, just click the "Save this" button and move onto the next section.
If you are VAT registered you can input your VAT registration number in the box.
You then also need to tell us whether items you add do or do not include VAT in the price you enter.
If they do, we won't do anything to the price when showing it to potential customers.
If items don't contain VAT in the price you enter, we'll automatically add 20% to the price so customers see the price including VAT.
PLEASE NOTE THAT WE WILL NOT ISSUE VAT INVOICES TO YOUR CUSTOMERS WHEN THEY MAKE A PURCHASE SUCCESSFULLY.
Voucher Codes
You can create new voucher codes to be used by customers making a purchase from your store on this page.
Select "voucher codes" from the left hand side menu.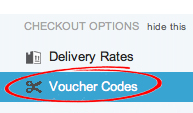 To create a new voucher code, click the "create a new voucher code" button.

A new box will then be displayed for you to enter the details of the voucher code into.
First enter the name of the voucher code.
Next you need to decide what type of discount is available.
Is it a £ discount, or a % discount, or is it a free delivery voucher.

If it's a free delivery voucher select "Free shipping" from the drop down and move onto the next section.
Otherwise, select either £GBP Discount or % Discount and then enter the discount amount in the next box (either a figure in pounds or a percentage).
Then you need to select when the voucher code can be used,

Either on any order, or on orders over a certain £ amount, or only applicable to products in a certain category or an individual product on your store.
All Orders
Select "All orders" from the drop down and move onto the next section
Orders Over
Enter the amount, in pounds, and then move onto the next section
Category
Select the category from the drop down box and move onto the next section
Product
Select the product from the drop down and move onto the next section
Next you can enter the date when the discount voucher can start being used and when it is no longer valid.

If the voucher never expires just click the "never expires" box. (You can always delete it when you no longer wish to offer the discount.
Finally you can say how many times the voucher code can be used, or state that it can be used an unlimited number of times until it expires or until it is deleted by you.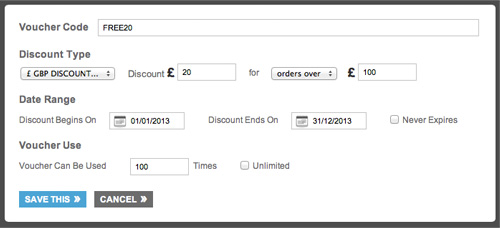 In the example above we've created a voucher with the code "FREE20" that gives any customer ordering over £100 worth of products £20 off the total value of their order. It is valid from 01/01/2013 to 31/12/2013 and can only be used 100 times before it expires.
Existing vouchers created are displayed on this page too, e.g.

From this page you can view the voucher code, what type of voucher it is, how many times it has been used, the start/end date and there is also a link to edit the voucher code.
There's also an "active" tick box which you can untick to make the voucher unavailable.
The delete button will permanently remove the voucher code from the system.
Store Settings
This page can be navigated to by clicking the "store settings" menu item on the left hand side ecommerce menu.

On this page you can enter the email address where you would like to receive email confirmation of orders placed through your store.
You can also enter a tracking code to track the success of adverts you place linking through to your online store (like Google Adwords or Microsoft AdCenter).