Section:
Ecommerce & Trading
Setting Up Your Store
In order to start listing items on your store for sale and on our marketplace, you first need to configure a few things.
First select "manage your store" from the ecommerce drop down menu item.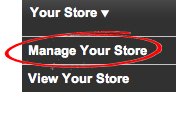 Then from the left hand side menu click the "store setup" menu item.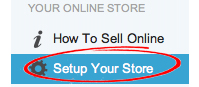 Setting Up Your Store
All the items that are shown on this page can be configured elsewhere on the management system as well, but this page provides a quick reference to see all the things you need to do so you can start selling.
Configure Your Payment Settings
Before you can start selling online you need to provide your PayPal email address.
In order to sell through our marketplace you must have a PayPal account.
Choose Your Package
We have 3 packages available from £0 per month through to £50 per month.
You can find out more information about packages by clicking here.
Configure Your Tax Settings
You need to let us know whether you are VAT registered and whether the prices you enter for the items you are selling include VAT or not (in which case, if you are VAT registered then we add VAT to your prices automatically).
You can find out more information about tax settings by clicking here.
Create Your Policies
You need to have set a refund policy, privacy policy and terms and conditions of business before your items can be made available for purchase.
You can use our templates if you do not already have your own.
You can find out more information about policies by clicking here.