Section:
Networking
Connections
Businesses on BionowB2B can form "connections" with other businesses. Once connected you'll be able to network online with them.
How To Form A Connection
Firstly, you need to find a business to connect with. You can this in a few different ways;
You can search for businesses to connect with using the business search
Just click the "click to search our directories" button in the top right hand corner of each page of the site and enter a business name or type, and location, in the boxes and then click the search button.
You'll then see businesses which you can click on to view the businesses profile.
Once on a business's profile, to send a connection request, click the "ADD AS A CONNECTION" button shown on the left hand side.

This will then send a connection request to the other business which they can then accept or decline.
As you navigate through the site you'll sometimes see that we make suggestions on businesses for you to connect with, as shown in the example below.
You should first view the business's profile to see if making a connection would be useful (you shouldn't spam connections), and then click the "Add as a connection" button as described above.
Lastly, you can also navigate to the "find new connections" page in the networking centre of the website. This will allow you to search for connections and also view more suggestions on businesses that you should connect with.
To visit this page, click the "networking" menu shown on the top of the site, and then from the left hand menu select "connections" and then "find new connections",

you'll then be shown the page.
Accepting Connection Requests
When a business sends a connection request to you, you'll be notified by email (although you can change your email preferences on the "Account Settings" page.
You can view outstanding connection requests (and accept or decline them) by clicking on the "requests" page.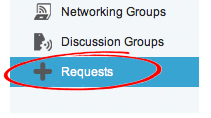 You'll then be shown outstanding connection requests.
You should click "confirm" to accept the connection request.
You should click "not now" to decline the connection request.
If you accept the connection request, the other business will be notified that you have done so.
If you decline the connection request, the other business will not be notified that you have done so.
Managing Connections
All your connections are shown on the "view your connections" page which can be accessed through the networking menu.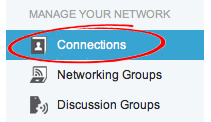 All of your business's connections will then be displayed.

You can click on a connection to view their profile, and also click the "remove" button to remove them as a connection.