Section:
Networking
Making Referrals
If you know two businesses that don't have a relationship with each other, but you think they should, you can make a "referral" (also known as an introduction), using BionowB2B.
How To Make A Referral
First you need to go to one of the two business's profiles.
Each of the businesses you are introducing to each other must already have a connection with you or you will not be able to make the referral.
Once you are on the profile of one of our connections click the "make a referral" button.

A new window will then be displayed.
First you need to enter the name of the other business that is part of the introduction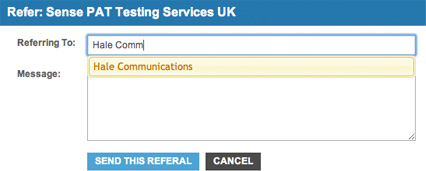 As you type the system will suggest businesses matching what you type to save time.
Once you have selected the business you are making the referral to then you can also enter an optional message in the box beneath.
When you have finished you should click the "send this referral" button.
Both businesses you have introduced will be notified about the introduction you have made and given the choice of whether to act on it or not.