Section:
Other Site Features
Internal Messages
Every business on BionowB2B can send an internal message to any other business. It's a quicker and less formal way to get in touch with other businesses through the site.
Sending A Message
There are 2 ways to send a message to another business.
Firstly, if you are on a business's profile you can click the "message us" item on their profile menu.
You'll then be shown a new window which allows you to enter the message.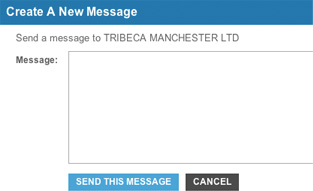 Simply enter the message you want to send into the message box and click the "send this message" button and your message will be sent to the business you want to contact.
The other way to send a message is through the "messages" area of your website.
You can navigate to the messages area by clicking "messages" from the main site menu at the top.

You can then click the "create new message" button.

This will then open a new window asking you to enter the name of the business you want to send the message to.

As you type the recipients name a suggested list of businesses will appear beneath which you can click on to save time.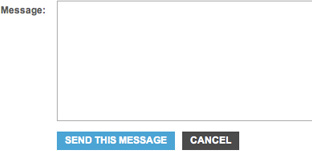 You can then enter the message content in the "message" box and click the "send this message" button once you have finished.
Receiving Messages
When you get a new message from another business, you'll be notified in the main menu of the site, in the example below there is 1 new message.

Messages are then displayed on the messages page.

You can click the "read full message and reply" button to view the full details of the message and reply to it.

To reply, just enter your reply in the box and click the "send" button and your reply will be sent.
When viewing messages you'll see three buttons

The square button on the top left allows you to mark the message as read/unread.
The red button allows you to delete the message.
The spam button allows you to report the message as spam.
SPAM
Internal messages between businesses should not be used for marketing purposes.
When you send a message to a business that is a marketing message, it may be reported by the receiver as spam. If we get too many complaints that you have been sending spam messages you will be barred from sending messages in the future.