Section:
The Directory Profile
Branches
If you operate from more than one location you can add the different branches onto your profile. Each branch you add is also included on our business directory as a separate listing in the search results.
To start adding branches, select the "branches" item from the left hand side menu.
Existing branches you have added will then be displayed to you and you can click the "create new branch" tab to add a new branch.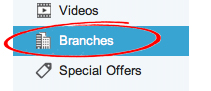 Creating A New Branch
To create a new branch, simply enter the details of the branch in the form.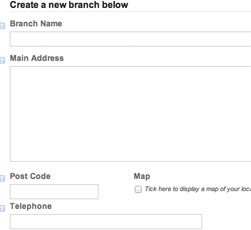 If you would like to include an interactive Google map on the branch details then tick the "tick here to display a map of your location" tick box.
You can add as much, or as little, information as you like for each branch.
You can also add a photo for the branch.

Just click the "choose file" button to select the image from your computer's hard drive.
Don't forget to click the "Save this" btuton to add the branch.
Managing Branches You Have Already Uploaded
To manage your existing branches, select "branches" from the menu on the left hand side of the page.

You can choose to view/edit the branch details already uploaded, "archive" the branch (to stop it being displayed on your profile), or click the "delete" button to permanently delete the branch from your profile.