Section:
The Directory Profile
Creating A Profile
How to start creating your profile
To start creating your profile, select "your profile" from the main site menu.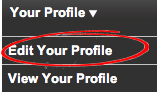 You should then click on the "edit your profile" button.
Along the left hand side of the edit profile pages is a menu which allows you quick access to the different parts of your profile.

The profile has 6 different pages which you can edit, these are:
About Us
Services (a page you control the name/content of)
Galleries & Images
Videos
Branches
Special Offers
To create your profile simply select, from the left hand menu, the page you would like to edit and then you can begin.
Each page is split into sections, e.g. "company name and description" from the "about us" page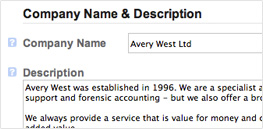 And at every stage of the way, a help icon is displayed

When you click on the help icon it will show a short hint about what to put in the box, e.g.

Saving changes
Once you've finished making your changes, simply click the "save this" button at the bottom of the page.

The website will then save your changes and you'll be notified that the changes have been saved successfully with an onscreen confirmation message.