Section:
The Directory Profile
Special Offers
You can add as many special offers to your profile as you like. Special offers are managed through the "special offers" part of the profile section.
Here you can choose to view (and edit) existing offers that you have created, create a new offer, or change the special offer settings on your profile.
Offer Settings

On the special offers directory, your company name will display next to any offers that are displayed to our visitors. You can change the name that is displayed by editing the name displayed in the "company name" text box.
Create A New Offer
On this page you can create a new special offer.
The first 3 things to enter are the offer name, description and a website address where more details about the offer can be found.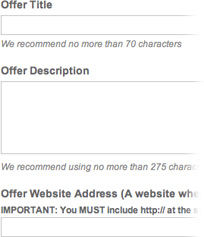 Simply type in the title, description and website address (remembering to include http:// at the start of the web address) into the boxes.
Offer Image
You can upload an image for the special offer by selecting the image from your computer's hard drive. To do so click the "choose file button"

This will then enable you to select the image from your computer.
If you are a member of a network you can select whether to make the offer you have created available to everybody who visits the site, or only to those businesses that are in one (or more) of the same networks that you are a member of.

In the above example we have chosen to only make the offer available to members of the "ClosedNet" network.
If you are not a member of any networks you will not be shown this box.
Filters
Lastly, you can select which areas the offer is available in. By default we tick all areas for you (as we assume that offers you create are available nationwide) - but if you only do business in a certain area then please tick the appropriate box or boxes and untick the others.
Saving changes
Once you've finished making your changes, simply click the "save this" button at the bottom of the page.

The website will then save your changes and you'll be notified that the changes have been saved successfully with an onscreen confirmation message.

Editing existing offers
To view, and edit, existing special offers that you have created select "existing offers" from the menu. Special offers you have created are then displayed for you to view.

You can then click the "view/edit" button to view or edit the special offer.
You can click the "archive" button to stop the special offer being displayed on the site (and your profile) - you can unarchive the offer again once you have archived it.
You can click the "delete" button to permanently remove the offer from your profile.