Section:
Projects & Tenders
Finding New Projects
When a business submits a request that matches your requirements we'll notify you by email (depending on your notification preferences as set on the "account settings" page).
To view the full details of the request, click the "projects" item on the menu shown at the top of each page and then click the "new projects" menu item.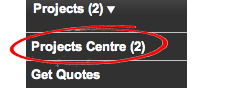 This will then load a page which shows you each project

You can click the "hide" button if you would prefer not to be shown this request again.
Alternatively you can click the "view" button to view the full details of the project.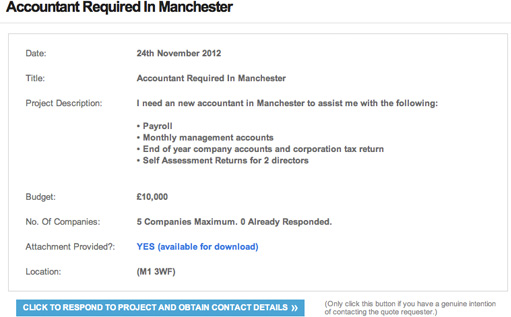 Here you can view the full details.
If an attachment has been added to the request then this is also available for download.
To view the contact details of the request you need to click the "click to respond to project and obtain contact details" button - you should only click this button if you have the intention to contact the requester.
The contact details will then be revealed.
Projects that you have quoted for are displayed on a new page in your account which you can view by clicking the "projects you've quoted" button on the left hand side menu.