Section:
Projects & Tenders
Tender Feeds
In the projects centre on this site, we also make available certain RSS feeds which are provided by third party organisations.
These feeds contain a small amount of information about a tender request, or call, that an organisation has made.
To access these feeds click on one of the items under the "tender feeds" menu whilst in the projects centre.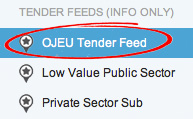 When you click on a feed type you'll then be shown a page which displays the RSS feed.
The amount of content for each request will vary depending on the information provided by the third party organisation publishing the feed (like OJEU), for example.

Clicking on an item in one of these feeds will open the full details of the feed request.
Please note that you will be transferred to a third party website.
Important Information
All of the RSS tender and call feeds are provided by third parties.
We have no control over any of the information.
We cannot be held liable for any loss at all as a result of you using these feeds.