Section:
Website Basics & Setup
Account Settings
How to change your account settings
Once you have logged into your account, you should select the "account" menu in the top right hand corner and click the "account settings" drop down menu item.

This will take you to a new page where you can change the settings on your account.
Account information
The first part of this page allows you to change your account information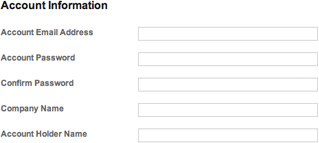 Here you can change:
The registered email address of your account
Your account password
Your company name
The name of the holder of the business account
Changing your email address
If you would like to change the email address used to log into your account then simply enter the new email address in the box.
Changing your account password
To change your account password enter the new password in the "account password" box and confirm the new password by entering it again in the "confirm password" box.
The passwords that you enter must match each other and must be at least 6 characters long.
Changing your company name or account holder name
To change the company name or the account holder name, simply enter the new information in the appropriate box.
Notification settings
The second part of the page deals with emails that we'll send you when a certain event happens on the site.
When a business requests a connection with your profile or accepts a connection request from you (or when another business interacts with you in a certain way), we generate an email sent to your registered email address to tell you about it.
You can tick or untick the boxes to say whether you do (or don't) want to receive these emails.

As we evolve the site, we may want to tell you about new features that we have added, or have a specific piece of news we want to tell you about (or invite you to take part in research for future features). Here you can tell us whether you want to be emailed about these things or not.
Saving changes
Once you've finished making your changes, simply click the "save this" button at the bottom of the page.

The website will then save your changes and you'll be notified that the changes have been saved successfully with an onscreen confirmation message.