Section:
Website Basics & Setup
Creating An Account
How to create an account on BionowB2B
Creating an account on BionowB2B is easy, simply click the "register" button on the top right hand side of the menu.
Once you have clicked this button you will be taken to the "create an account" page.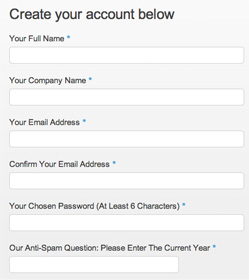 You'll then be shown a form with 5 questions.
You should enter:
Your full name
Your company name
Your email address
Confirm your email address (to ensure you have not made a mistake)
Choose a password (consisting of at least 6 characters)
Lastly, you'll be asked to answer our "anti-spam" question.
The question asks what the current year is, so you will enter "2013" in this box.
Once you have completed this form you should press the "create your account now" button.

And your account will then be created.
Once your account has been created you can then start using the different features of the site.