Section:
Ecommerce & Trading
Choosing A Package
Why do you need to choose a package
Your online store is free of charge to use but if you want to add a higher number of products, or product categories, there is a small monthly charge that we make.
We also make a small commission charge on sales that you make through your store (although this is reduced depending on your package).
Choosing a package
To choose your store's package click on the "your package" menu item on the right hand side ecommerce menu.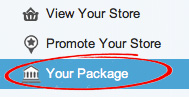 You'll then be shown the three packages that are available.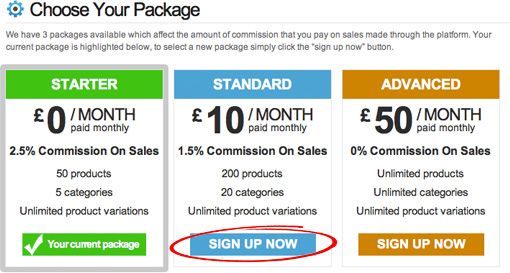 Three packages are available for you to choose from.
By default, all new accounts are placed on our free package.
To choose a new package click the "sign up now" button.
You'll then be transferred through to our payment provider to setup your monthly payment.
Once payment is complete your store will then be placed on the chosen package.

PLEASE NOTE THAT THERE IS NO MINIMUM TERM FOR ANY OF THE PACKAGES THAT YOU CHOOSE AND YOU CAN CANCEL AT ANY TIME EITHER ONLINE OR BY CONTACTING US DIRECTLY.