Section:
Projects & Tenders
Managing Your Categories
You'll only be notified of new projects that match the products and services you provide based on two criteria.
Your business categories
Your location
You can change your business categories by selecting "change your categories" from the left hand side menu in the projects centre.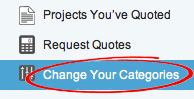 This will then load a page where you can change your categories.

The categories your business is currently in are displayed on the page. You can remove a category by clicking the category name.
To add your business to new categories enter a keyword or keyphrase in the category search box, e.g.

and then click the "search" button.

Matching categories are then displayed.
To add a new category to your business click on the name of the category.
When you have finished you must click the "save this" button at the bottom of the page in order to save your changes.